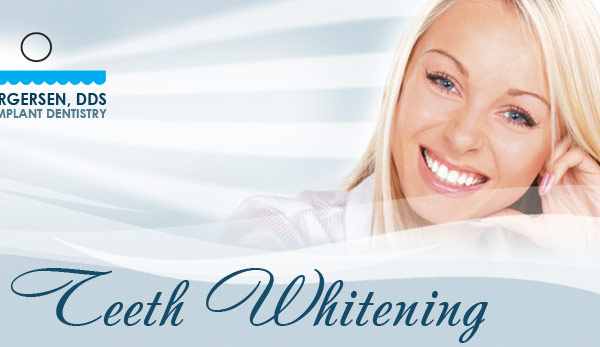 Offering Camarillo and Simi Valley the Most Advanced Teeth Whitening
Tired of looking for the best place that offers a teeth whitening system that works? Get a whiter smile, pain free and comfortably in just about an hour!
Coffee stains, wine, snuff, certain medications, genetics and age can slowly reduce the power of your smile. We can effectively whiten your teeth with our non-toxic laser tooth whitening technology. We also offer professional home whitening systems for our patients.

Before and After Teeth Whitening Treatment
More Details ...
What is the Zoom teeth whitening system?
The Zoom teeth whitening system is an advanced system when it comes to completely improving the shade of your teeth safely and effectively. It uses an extraordinary and versatile light that can be used for both at home bleaching and quick curing bleaching in our office. In connection with the aid of Zoom patented toothpaste, clinical results have shown that teeth can be whitened up to ten shades with the system.
The Zoom in-office tooth whitening procedure uses the Zoom Advanced Power Chairside Lamp – to accelerate the bleaching process – to activate the 25 percent hydrogen peroxide whitening. As the hydrogen peroxide is broken down, oxygen enters the enamel and dentin to bleach the stained substances, leaving the structure of the tooth unchanged.
Zoom Teeth Whitening Procedure
The complete procedure takes about an hour - hour and a half. The procedure begins with a short preparation to cover the lips and gums, leaving the teeth exposed. Dr. Trent or Gina Torgersen or one of our dental professionals apply the Zoom hydrogen peroxide whitening gel, which works together with the Zoom light to penetrate the teeth and break up the stains and discoloration.
The gel remains in place for 15 minutes while the light is activated. During this time, you can relax or listen to music. The gel is applied for three 15-minute sessions of light activation, for a total treatment time of 45 minutes. Individuals with a strong gag reflex or anxiety may have difficulty undergoing the entire procedure. Immediately afterwards, a sensitivity-reducing fluoride paste-gel is applied to the teeth
Normally, you can achieve impressive results with the Zoom teeth whitening system. It's a big difference compared to taking home trays that could take several weeks to achieve similar results.
The Zoom teeth whitening system is completely safe as it will not do any destruction to your teeth or gums. Dozens of clinical researches and examinations have shown that the Zoom teeth whitening system is absolutely effective and superior compared to other systems available nowadays.
How Zoom Teeth Whitening Compares to other Whitening Options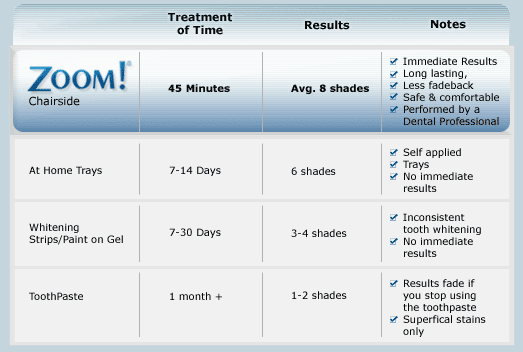 What is At Home Whitening?
At Home Whitening requires us to take an impression of your mouth so that a custom tray, which holds the whitening gel against your teeth, can be created. The gel is generally worn for a few hours daily for a period of 1-2 weeks.
How Long Will Whitening Last?
Since the results vary from patient to patient, there is not a definite answer. We do know that teeth tend to darken as time passes so touch up treatments are sometimes necessary in order to lighten the teeth. Eating, drinking, smoking among other factors certainly have some impact on how long the treatment lasts. Remember that the base shade of teeth could be either yellow or white and that we cannot whiten this base color. Nevertheless, most patients are very satisfied with the whitening results.
What Are The Side Effects?
Some patients have reported a short term increase in sensitivity. Another known side effect is tender gums. This happens especially if you're bleaching at home and use too much bleach solution. Remember that using too much of a whitening solution will not make your teeth any whiter.
Is Everyone Qualified For Whitening?
NO! There is no whitening solution for most dental work such as fillings, crowns, veneers and partial or full dentures. If the color of your teeth matches the color of your dental work before whitening, the color of your teeth will most likely be a different color after whitening than the color of dental work after whitening. You would need to decide if you would like to change the restorations to whiten your teeth in return. We usually wait a couple of weeks after any whitening treatment to replace these restorations because we want to match the new color and we want the color to stabilize before determining a color for new restorations.
It is a must that your gums are healthy and any decay must be medicated since both of these can trigger the sensitivity during the whitening procedures.
Teeth whitening is not approved for children with developing teeth and for pregnant or lactating women.

Before and After Teeth Whitening Treatment

Before and After Teeth Whitening Treatment
Call for your appointment today!