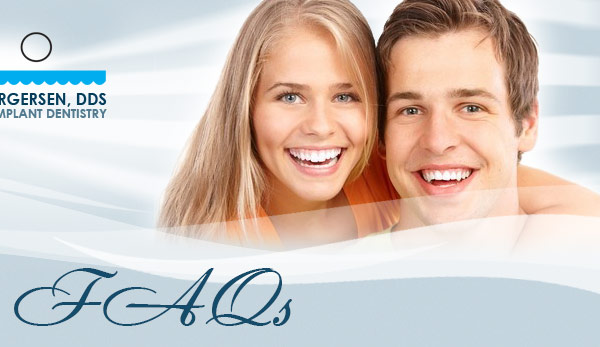 Frequently Asked Questions
Q: Which type of toothbrush should I use?
A: The brand of the toothbrush is not as critical as the type of bristle and the size of the head. A soft toothbrush with a small head is recommended because medium and hard brushes tend to cause irritation and contribute to recession of the gums, and a small head allows you to get around each tooth more completely and is less likely to injure your gums. It's unnecessary to "scrub" the teeth as long as you are brushing at least twice a day and visiting your dentist at least twice a year for cleanings.
Q: Is one toothpaste better than others?
A:
Generally, no. However, it's advisable to use a fluoride containing toothpaste to decrease the incidence of dental decay. We recommend our patients use what tastes good to them as long as it contains fluoride.
Q: How often should I floss?
A:
Flossing of the teeth once per day helps to prevent cavities from forming between the teeth where your toothbrush can't reach. Flossing also helps to keep your gums healthy.
Q: What's the difference between a "crown" and a "cap"?
A:
These are restorations to repair a severely broken tooth by covering all or most of the tooth after removing old fillings, fractured tooth structure, and all decay. The restoration material is made of gold, porcelain, composites, or even stainless steel. Dentists refer to all of these restorations as "crowns". However, patients often refer to the tooth-colored ones as "caps" and the gold or stainless steel ones as "crowns".
Q: What's the difference between a "bridge" and a "partial denture"?
A:
Both bridges and partial dentures replace missing teeth. A bridge is permanently attached to abutment teeth or, in some cases, implants. A partial denture is attached by clasps to the teeth and is easily removed by the patient. Patients are usually more satisfied with bridges than with partial dentures.
Q: What about "silver" fillings versus "white" fillings?
A:
Although the U.S. Public Health Service issued a report in 1993 stating there is no health reason not to use amalgam (silver fillings), more patients today are requesting "white" or tooth-colored composite fillings. We also prefer tooth-colored fillings because they "bond" to the tooth structure and therefore help strengthen a tooth weakened by decay. White fillings are also usually less sensitive to temperature, and they also look better. However, "white" fillings cannot be used in every situation, and if a tooth is very badly broken-down, a crown will usually be necessary and provide better overall satisfaction for the patient.
Q: Do I need to have a root canal just because I have to have a crown?
A:
No. While most teeth which have had root canal treatments do need crowns to strengthen the teeth and to return the teeth to normal form and function, not every tooth needing a crown also needs to have a root canal.
Q: How can sensitive teeth be managed?
A: Pain from sensitive teeth often comes and goes, but if you experience constant pain, you may have a more serious problem. There are many effective treatments for sensitive teeth, including:
A soft-bristle toothbrush to prevent gum irritation
Toothpaste designed to insulate the nerve that registers pain- like Sensodyne or others made "for sensitive teeth".
A fluoride rinse or gel, like Act or Plax. Ask us about it at Torgersen Dental
If you have sensitive teeth, visit our Dr. Torgersen's Camarillo or Simi Valley office to discuss your symptoms. We can help determine the cause of your pain and develop a course of treatment.
Q: How does professional teeth whitening work? Is it safe?
A:
Physician-supervised teeth whitening systems such as Zoom!®, Sapphire® and BriteSmile® are widely considered to provide the safest cosmetic dentistry treatments. Teeth whitening is a conservative method for completely making over your smile. These teeth whitening procedures are performed with a specially formulated peroxide gel that allows oxygen to permeate your tooth enamel, lifting stains. The structure of your tooth enamel is not affected. The most common side effect is temporary tooth sensitivity.
Q: What is sedation dentistry? How can it help me?
A:
Sedation (sleep) dentistry involves the use of sedative drugs so that patients who fear dental work can avoid the discomfort and anxiety associated with dental visits. With sedation dentistry, patients take a pill about an hour before their dental appointment. They arrive at our office relaxed and able to undergo treatment without feeling any pain and with little if any memory of the procedure. If you have avoided getting dental care because of anxiety or fear of discomfort, sedation dentistry may be the ideal solution to allow you to get essential treatment. We also use Nitrous Oxide gas, or "laughing gas", which works well for anxious children.
Q: Do you offer free consultations?
A:
Yes! We believe that a complimentary, one-on-one consultation is the perfect introduction to the customized general and cosmetic dentistry care offered at Torgersen Dental. Call us today to schedule your consultation.
Call for your appointment today!